They're cultivating more than delicious food way down on the south-east coast of what many of us used to call the 'apple isle'. It won't be long before it's known as the 'cheese and milk isle' if the team at the Stroud Dairy and their artisan dairy produce brand 'Bream Creek Dairy' have anything to do with it.
Recently, members from RAGTs senior team took a film crew down to the picturesque paddocks of this dairy located by the sea to record a conversation with the farm's Herd Manager Jack Bignell. Jack has changed the direction of the dairy with the help and foresight of his dad Charles and uncle Richard, along with his brother Doug and a herd of 800 super fit and healthy Friesian cows. Jack's idea of shifting to a paddock to plate model has seen the dairy successful launch its own produce brand – Bream Creek Dairy. The operation now sells a wonderful selection of fresh farm milks and cheeses, including a stunning Triple Cream Truffle Brie. You can read all about their great story and history on their website, as well as buy a truckle of this amazing cheese to try yourself.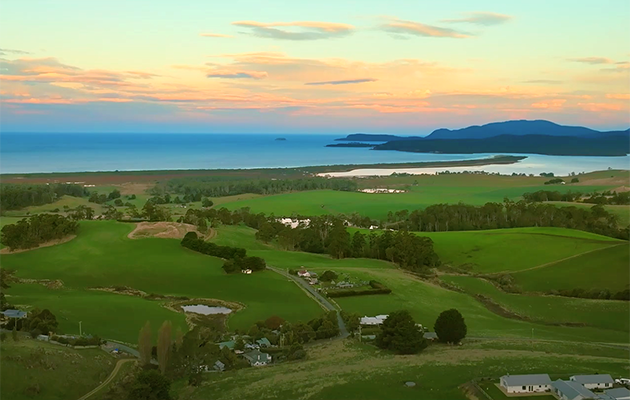 From an RAGT perspective, to see this dairy pivot and prosper off the expert and continued support of our RAGT Territory Business Manager David Gould and a local agronomist's recommendations of utilising Hustle AR1 Perennial Ryegrass as the backbone of the herds on ground pasture feed system has been very satisfying.
For an in depth understanding on how RAGT's Hustle AR1 has supported Jack's herd and assisted in cultivating the dairies outstanding new produce range, watch the 'Cultivating Conversation' video above. Here you'll meet Richard Prusa (RAGT Technical Product Development Manager – Forage) and learn how his love for 'dirty chai lattes' made with delicious Bream Creek Dairy 'Cream-0n-Top' full cream milk and helping cultivate highly productive pastures is driving life moments for everyday people to enjoy.