With properties at Robe, Naracoorte and Langkoop, Graham Johnson's focus is clearly on pushing livestock production. Across his properties he runs ewes and lambs, cows and calves. There's a lot of mouths to feed, reliant almost totally on rain-fed agriculture.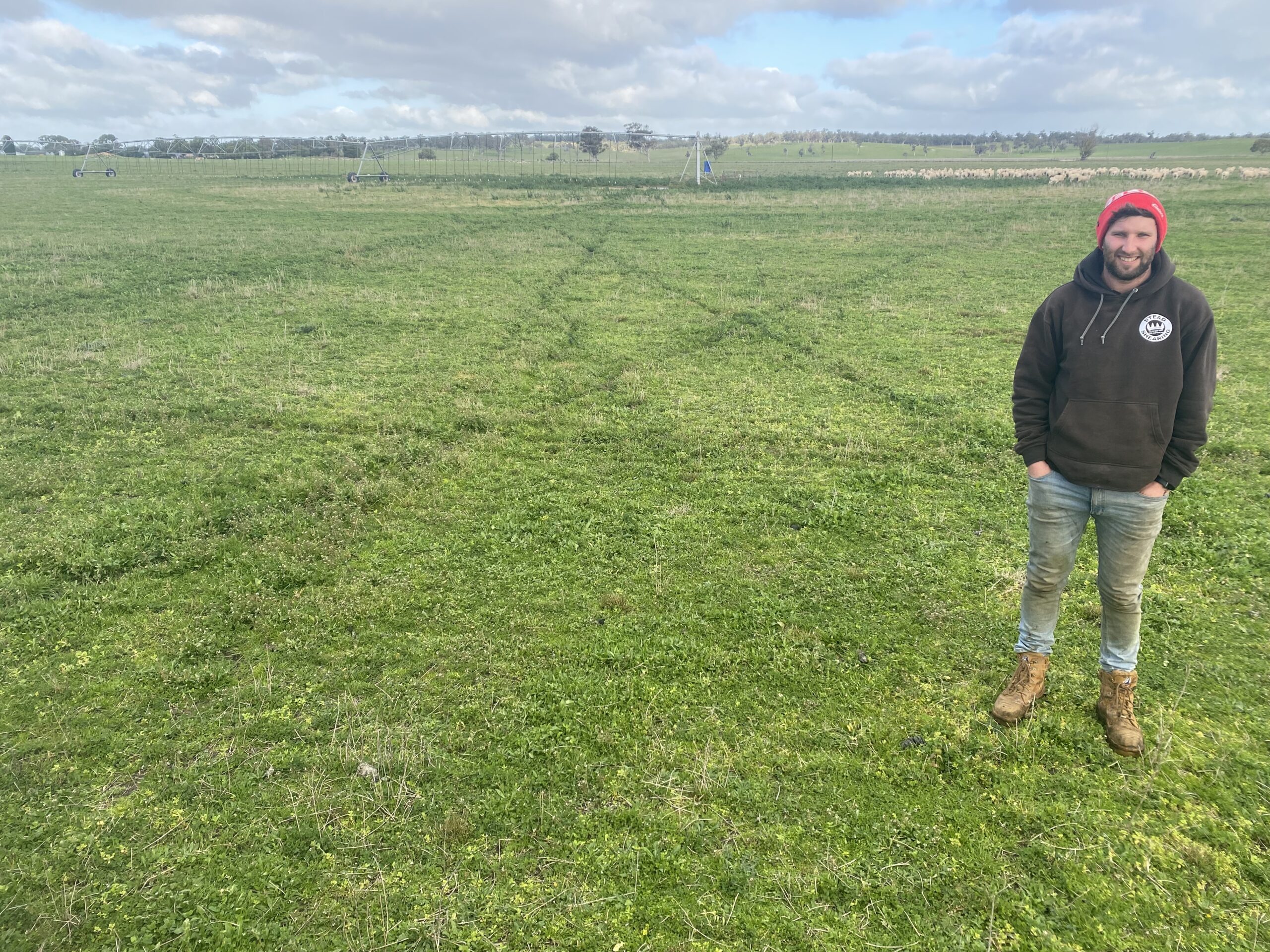 According to Graham's Livestock Manager, Aaron Slorach, they grow a small amount of feed barley and some oats for hay just north of Naracoorte. Most paddocks are a mix of clover and annual ryegrass, with a spread of Phalaris across some. It's all non-irrigated pasture, aside from two centre pivots at Naracoorte.
While the pivots cover just a small percentage of the Naracoorte block, they are enormously important when it comes producing in-season and out-of-season feed. Aaron said when you have the ability to manage pasture growth with irrigation, you really want to take production to the next level and make the most of the opportunity.
The two pivots were sown to Seed Force Lucerne variety SF 614 QL in 2021. Commercial seeding rates up to 25kg/ha were used and the intent was to make full use of this multi-purpose, dormancy 6 rated variety, for both forage and hay production.
With a close eye on management, the stand established exceptionally well and was ready to be cut for hay by October. Further cuts were made into early summer.
Aaron said as Livestock Manager, his interest has been on how SF 614 QL performs with gazing. He said both pivots have been stocked since the beginning of 2022.
"We had about 700 light lambs that needed to be finished off before they could be moved on, so in January they went onto the pivots and by mid-February they were moved off and sold.
"As soon as they came off, we watered for a couple of weeks. The 614 bounced back quickly, so we introduced 360 pregnant ewes in early March.
"We aim for an April/May lambing here. Those particular sheep were bought last year as scanned-in ewes and joined with lamb at foot, so the lambs didn't drop until the middle of May.
"It's been interesting to see how they've performed on the Seed Force variety. The weight gains I have seen on those lambs from the time they were born to when they were ready to leave the property, and how they looked, is as impressive as I've seen.
"By late winter the lucerne growth was powering away, way ahead of the ewes and lambs, so we took them off one of the pivots and put them all onto the other one for a stocking rate of 22 DSE.
"That enabled us to do a winter weed clean-up, to set-up the unoccupied pivot in preparation for hay production.
"Come early September, lambs on the SF 614 QL lucerne were probably 4kg heavier on carcass weight compared to lambs in the paddock next door. We're targeting that 24kg plus weight range.
"Approaching four months, most were ready to sell. That's remarkable considering they were actually 3 to 4 weeks younger compared to the rest of the lambs on the farm.
"It's been as good a lamb growth as I have seen," Aaron said.
With the season still progressing, he said as lambs on the pivot are sold, they would be replaced with lambs from other paddocks.
"As spring progresses and the weather gets warmer, it's obviously going to grow a lot more feed and get further ahead of the sheep. So, we'll have to manage it and increase the stocking rate accordingly.
"Ideally, we'd get enough on there to chew it down and be able to get in and do a spring weed clean-up in preparation for hay cutting.
"I'm really impressed with how much winter and spring forage it has produced, and how it bounces back," Aaron said.