Strawberry milkshakes…
at Aunty Jade's house. Proudly brought to you by RAGT Perennial Grasses.
RAGTs Perennial Grasses range provides pasture systems the backbone needed to power and maintain herd productivity and cultivate life moments everyone can enjoy.
Most of us, as children, can remember visiting the home of a grandparent, aunty, uncle or a close family friend after school for afternoon tea. The level of sophistication regarding the food tabled at such gatherings could be as simple as sharing a packet of biscuits found in the back of the cupboard, right up to a delicious spread of freshly made pikelets with all matter of condiments and a cup of tea from a beautiful china teapot. For those who visit any of the homes located in the rich perennial grassed paddocks on the Stroud Dairy located in Bream Creek, they're treated to a delicious strawberry milkshake made with fresh 'Cream-On-Top' Bream Creek Dairy milk produced by the cows grazing around them.
Ever since the Bignell family decided to partly change the direction of their dairy to create and sell their very own range of milks and cheeses, afternoon tea has never tasted so good. This paddock to plate initiative has seen the Bignell's 800 super fit and healthy Friesian cows and the dairies stunning location by the seas become the ambassadors for a new brand of artisan dairy products that many Tasmanians can't get enough of.
From an RAGT perspective, to see this dairy pivot and prosper through cultivating a way of life that highlights the natural environment and good old fashion hard work and innovation is inspiring. For many years RAGT Territory Business Manager David Gould and a local agronomist have worked with the Bignell's, (a very progressive farming operator) providing recommendations for the sowing of specific perennial grass varieties and cultivars. This has helped build a robust pasture system backbone that can support the needs of the herd. Furthermore, these recommendations have assisted in meeting milk production specifications and generating the highly sustainable and productive paddocks needed to produce the Bream Creek Dairy ranges.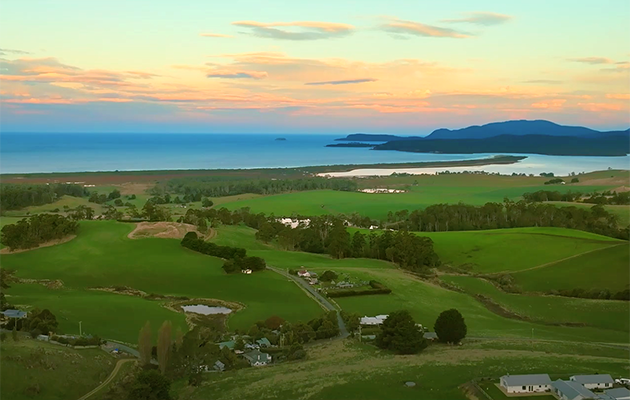 RAGT Perennial Grasses are the backbone of Stroud Dairy's pasture system.
• The use of a variety of perennials ensures year round feed options, be them on ground or cut hay.
• Climate, farm aspect and soils have been carefully considered in planning the paddocks and which perennial is used where on the dairy.
• Hustle AR1 Perennial Ryegrass and Lazuly Soft Leaved Cocksfoot are two of the main grasses used in the system.